Specializing in the finest heavy frameless shower doors, we are pleased to expand our shower installation service areas from Raleigh to Wake Forest, Apex, Morrisville, Cary, Durham, Chapel Hill, Garner, Clayton and the surrounding  Research Triangle Park area.  
Some Raleigh shower doors do not conform to standard measurements. In other homes, architectural designs that are being used in a bathroom remodeling or new addition project do not conform to standard glass shower door measurements. Purchasing pre-fabricated glass shower doors is simply not a feasible solution. We can provide you with custom glass shower door solutions to meet any needs. Our process starts with a simple email including a photo and basic measurements and then visiting your home to measure the space and discuss your needs further.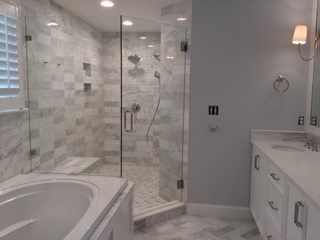 Our shower enclosures are designed to create the bathroom of your dreams.  Creating a luxurious bathroom in Raleigh is just one of the benefits that are associated with modern glass shower doors. Frameless shower doors, bathroom mirrors and glass tub enclosures can all be used in your home to create an atmosphere that is bright and inviting. Design options are variable, and glass works well with a number of other materials. Granite, marble, and porcelain tile look superb when they are combined with custom showers.
Having the right shower doors installed in your Raleigh bathroom can really  transform your space     and provide it with that extra   touch of sophistication and class that you want to achieve.  Whether you are remodeling an existing bathroom,  replacing a broken shower door, adding a new bathroom to your home or more, you may be looking  for the perfect shower doors to bring your design ideas to life.
Some of the most impressive design ideas today include a glass shower door accompanied by beautiful bathroom tile and high-quality shower fixtures. Whether you are wanting custom designed showers for your space or you want to upgrade the look of your existing shower with minimal effort, we have the knowledge, skills, and glass shower door designs available to help you realize your dreams for your home in the Raleigh area.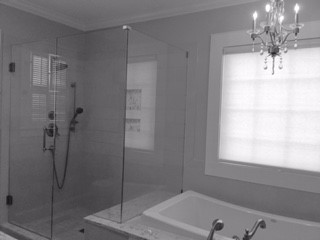 Style Options For Your New Shower Door
As shower door specialist, we are your source for all of your custom shower glass needs.   All of our products are beautifully-designed with the highest quality materials and will transform an ordinary space into an extraordinary bathroom! Some of the many styles we can provide include:
 Frameless shower door
 Sliding glass doors
 Heavy glass doors
 Pivoting glass doors
 Swinging glass doors
 Bi-fold glass doors
When we visit you during your home consultation to measure your space, we can help you to learn more about the different benefits associated with each style of shower door as well as the cost associated with installing a specific style in your home. We can help you to find the right style that will achieve the look you want in your bathroom and that will meet your budget.