We offer the largest selection of frameless shower door hardware in the glass industry, including hinges, pulls, knobs, glass clamps, towel bars, and much more.  We will be happy to review your plan and help you choose hardware that best complements the look, feel, and layout of your bathroom or spa.
Hardware Finishes
Our frameless shower door hardware is available in a variety of beautiful, consistent finishes. We have classic high polished mirror-like finishes, high-tech matte finishes, brushed finishes for a "softer" look, antique finishes, and even painted finishes such as black, white, and red for enclosures that go beyond the conventional. Let us show you physical samples of any finish and share the latest trends we are seeing with designers. If our stock finishes are not to your liking, we can produce virtually any finish that is compatible with our brass and stainless-steel constructed hardware.
Hinge Choices
While designing the frameless shower door of your dreams, you can consider several different options for hinges to meet your desires. Each option has a specific function in the design of the enclosure.
Handles, Knobs and Towel Bars 
We have a large selection of handles,knobs and towel bars are designed for glass mounting on frameless shower doors. All styles are available in the standard finish colors of polished chrome, brushed nickel and oil rubbed bronze.  Specialty finish colors limit the styles available.   Towel bars are available single sided, back-to-back, and as towel bar / pull combos. Robe hooks are available single or double sided.  Please inquire about pricing.
U-Channel vs. Clamps for Attaching Fixed Pieces of Glass
If your shower enclosure includes fixed, stationary panels, we offer two methods for attachment. Both are equally durable and water tight, but have different aesthetic and budgetary considerations.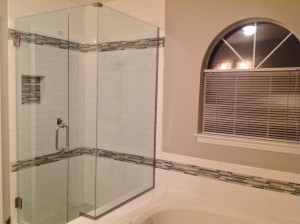 Fixed panels mounted in low profile U-Channel provides a clean, uninterrupted sight line.
Ask us about the pro's and con's of each option in cleaning and maintenance to make a good decision for yourself.
Option 2: Clamps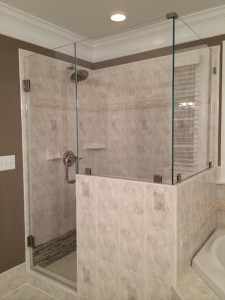 The alternate method for mounting fixed panels is glass clamps. Glass clamps are mounted directly to the wall or floor and screwed through a hole in the glass. The clamps would match the rounded or square style of your hinges.
This is our preferred method of attachment to showcase as much glass as possible and also is easier maintenance with no place for water to hide in a channel.  You will notice that well over 90% of our showers use glass clips.
Hardware Warranty
All Mia Shower Doors frameless shower door hinges and components undergo strict quality-control measurements, testing and inspections and have been engineered to meet or exceed all industry standards. Our hardware is covered by a manufacturer guarantee against workmanship and defects.  Each manufacturer has different price points and warranties.