Custom frameless showers are our specialty!
Installing frameless showers is our specialty at Mia Shower Doors in Raleigh.  Step inside the world of wonderful glass with us to view some of our work.  We are always up to a challenge and like to use the newest and greatest hardware and design configurations available today.  Our custom shower enclosures are always completed to perfection, be sure to notice the precision in the small details.  Go ahead…dream big, beautiful and exciting…we do!!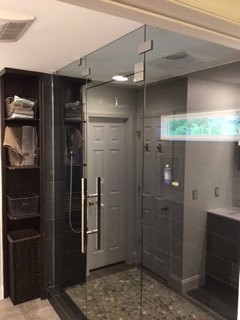 Custom Neo Angle Frameless Showers
90 Degree Frameless Showers
In Line Enclosures and Single Shower Doors
Keeping it simple and adding elegance with a frameless shower door to upgrade your Raleigh bathroom.
Sliding Shower Enclosures
At Mia Shower Doors, creating custom frameless showers are our passion.  Nobody loves designing and installing custom shower enclosures the way we do!  Give us a call at 910-265-0471.